Greetings fellow Mouse Fans!
Registration is now open for the 2014 Princess Half Marathon Weekend at Walt Disney World, February 20 – 23, 2014. The events include a Royal Family 5k, an Enchanted 10k, the Princess Half Marathon, and the Glass Slipper Challenge (the 10k plus the Half). These events fill up quickly so register today at www.rundisney.com!
Best of all – did you know that Mouse Fan Travel has enchanting group rates for your Princess Half Marathon Walt Disney World resort stay? Check with your favorite MEI-Travel & Mouse Fan Travel Planner for details or visit http://www.mousefantravel.com/disney-destinations/walt-disney-world-resort/latest-deals/21914-princess-cheering-mouse-fan-deal
Be well and make magic wherever you go!
Sara Varney
Travel Planner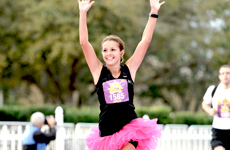 Photo Courtesy of Disney©